Taos Gutters Bowling Alley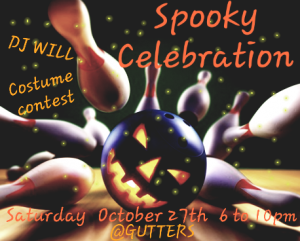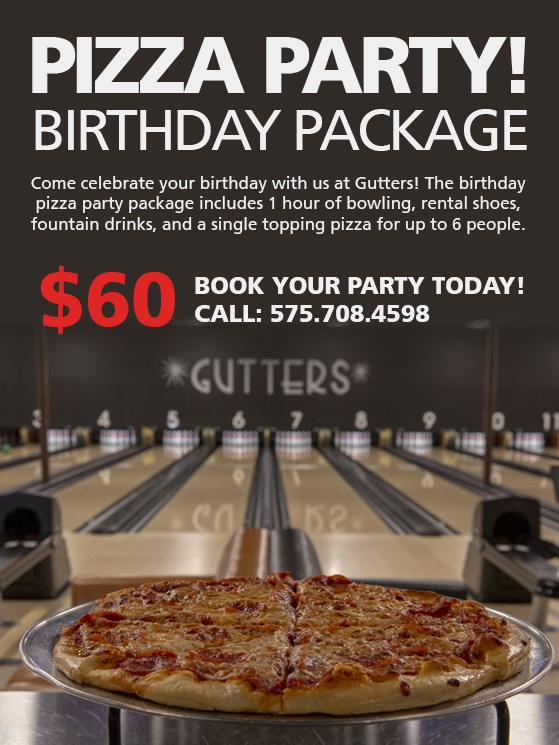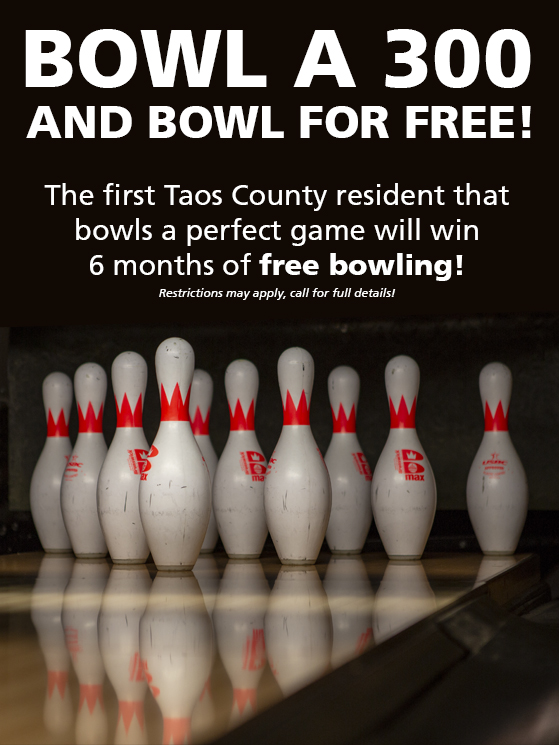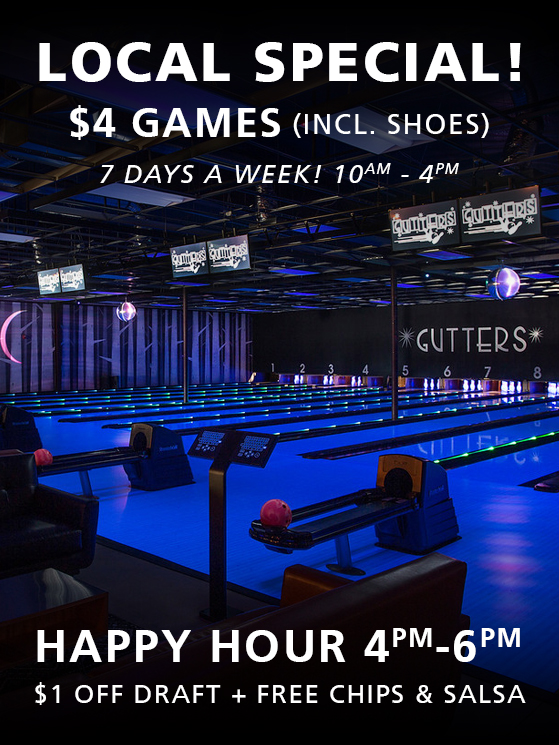 Specials
Community Night!
Schools and non profits contact Gutters!! Bring your groups in to eat or bowl Monday-Thursday. 15% of all profit will be returned to groups participating
Senior Discount Hours
7 Days a week: 10am – 4pm
$60 – Birthday Pizza Party Package!
Come celebrate your birthday with us at Gutters! The birthday pizza party package includes 1 hour of bowling, rental shoes, fountain drinks & a single topping pizza for up to 6 people.
To book your party today, call: 1.575.758.2695

Local Special!
$4 games (includes shoes!)
7 Days a week: 10am – 4pm
Bumper Bowling for Kids 2-5 Years Old
The bumper bowling club includes an hour of bowling from 10:30-11:30am on Fridays with bumpers and ramps to make the first-time bowling experience fun and entertaining! $7 includes one hour of bowling, rental shoes and a healthy snack. No reservations necessary, drop-ins are welcome. 
Fridays:10:30 – 11:30
Bowling Rates
You can rent lanes by the hour, or you can pay per game between 10am and 4pm. If you are a league bowler we offer discounted rates, be sure to ask when you arrive! If you are interested in learning more about leagues check out our Taos Bowling Leagues page.

Come Bowl in Taos' State of the Art Bowling Alley!
Gutters is a 12 lane brand new bowling facility as well as a full-service restaurant with beer and wine. Our goal in creating Gutters is to provide our community with a facility that can bring safe, fun, entertainment for all ages. We are looking forward to bringing enrichment programs to local schools, offering team building for businesses, and college credit for UNM students.
Gutters, unlike many bowling facilities has a full-service restaurant with a variety of excellent food. We have gluten-free crust as an option for pizza lovers, vegan dishes, and daily homemade soup specials. Gutters strives to create a warm, respectful, clean environment from a very professional, friendly staff. We look forward to serving you, and we look forward to receiving feedback to help improve our service. Thanks!
TAOS BOWLING LEAGUES!
Sign up for our mailing list to get the latest info about upcoming leagues!