Taos Bowling Leagues
Gutters is currently open for league bowling only. Here are the current top scores out of all the leagues so far!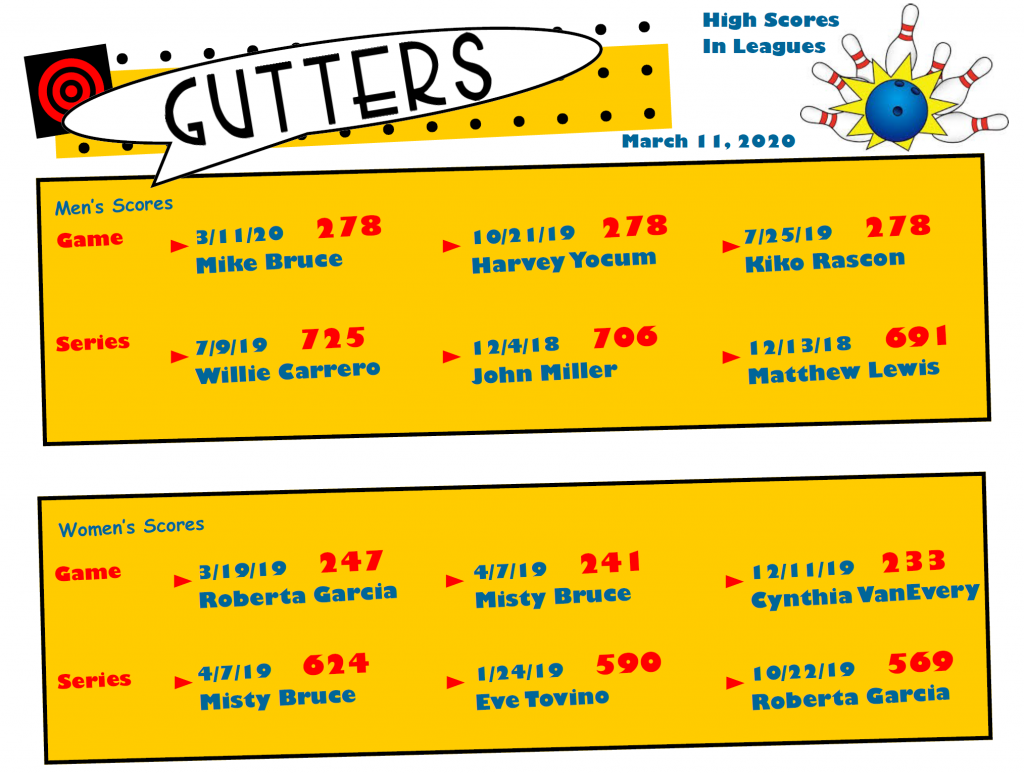 Ready to get in on the fun? Email leagues@taosbowling.com for more info or to sign up.
Current Leagues, sign up here to get Standing Sheets!
Check back soon!
Upcoming Leagues
Proposed League Schedule – THIRD DRAFT
Day
League
# on Team
Proposed Time
Proposed Start
Type
Weekly Fee
# of Weeks
Est Prize Fund
SUN
Youth League

(?)

2-3 TBD
12:00pm
10/4/20
Youths
$12.00
4
pizza party
SUN
Adult/Youth Doubles (1 Adult, 1 Youth)

(?)

2
2:00pm
10/4/20
1 Adult, 1 Youth
$20.00 per team
4
none
MON
Monday Practice League 1 (All Ages)

(?)

1, 2 or 3
4:00pm
9/28/20
All Ages
1- $25.00 2-$17.50ea 3-$13.33ea
4
N/A
MON
Monday Practice League 2 (All Ages)

(?)

1, 2 or 3
6:30pm
9/28/20
All Ages
1- $25.00 2-$17.50ea 3-$13.33ea
4
N/A

TUE

Winter 21 Pincatchers (Adult Mixed)

(?)

4

6:30pm

9/29/20

Adults, USBC Sanctioned

$25.00

20

$6,400

League Full
WED
Wednesday Over the Hump Doubles (Mixed)

(?)

2
6:30pm
9/30/20
All Ages
$18.00
8
TBD
THU
Thursday Trios (Adult Mixed)

(?)

3
6:30pm
10/8/20
Adults
TBD
8-16 TBD
TBD
FRI
Friday Practice League 1 (All Ages)

(?)

1, 2 or 3
4:00pm
10/2/20
All Ages
1- $25.00 2-$17.50ea 3-$13.33ea
4
N/A
FRI
Friday Practice League 2 (All Ages)

(?)

1, 2 or 3
6:30pm
10/2/20
All Ages
1- $25.00 2-$17.50ea 3-$13.33ea
4
N/A
SAT
Looking for Suggestions

(?)

2-4 TBD
Afternoon
10/3/20
TBD
TBD
TBD
TBD
SAT
Saturday Space Bowl League

(?)

2-4 TBD
6:30pm
10/3/20
All Ages
$27.00
4
TBD
*All info on this schedule is subject to changes. Last updated on 9/24/20
More Info…
Gutters can be open for league bowling only at 25% occupancy. If you would like to bowl, you must register for a league in advance. We have LIMITED space available and will fill leagues on a first come, first serve basis. New leagues will start every 4 weeks!
You do not have to be a good bowler to sign up! Some leagues are just for practice and the others use a fair handicap points system. You'll just need to commit to the weekly schedule and payments for the length of the league you sign up for.
Since we can only be open for league play, we are trying to create a new league for each day. We'll have something for everyone!
About CSP's
Gutters will be following the recommended guidelines for Covid Safe Practices (CSPs) including, but not limited to 25% occupancy (only 40 customers may be inside at once), frequent sanitization, maintaining a 6ft distance from others and mask wearing. Please use common sense, refrain from high fives and wash your hands often.
Changes in League Rules
The United States Bowling Congress (USBC) has rolled back its rule about using cleaning agents on your ball during league play. Players may use isopropyl alcohol to clean their balls at anytime.
The USBC has also declared that using cross-lane during league play is not required for sanctioned leagues during this period of covid pandemic.
There is a new rule implemented recently about balance holes. You may not have any extra holes in your ball that you don't use. This only applies in our USBC sanctioned leagues.
And finally, there will now be the full lineage charge for each week for each bowler, even if you take an absentee score.
F.A.Q.'s
Why only 4 weeks for the youth league?
Some kids are dying to get back ASAP. Four weeks will be a good opportunity for them to get some practice while we get the word out. By next month we might be able to allow more bowlers and get some sponsors.
What's a 4 week practice league?
It's a chance to get some practice. Bowl as many games as you want in 2 hours once a week for 4 weeks. No scores or averages kept. You can sign up for the 1&2 league spots and bowl the whole time!
What's the food and beverage situation?
We'll have all the same great selection of beverages. For the first couple of weeks, the food selection will be pizzas and fried foods as we work to develop a new menu.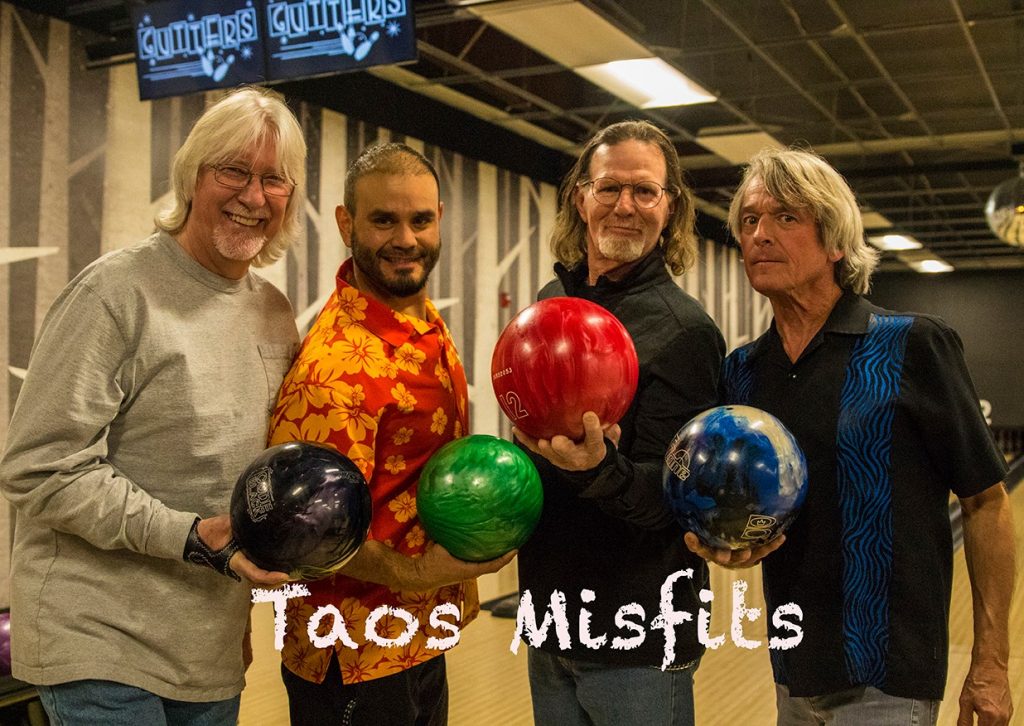 We can't wait to see you out there again!
Questions or Comments? Contact the Leagues Coordinator
About Taos Bowling Leagues
Taos Bowling Leagues is a non-profit organization managed by Misty Bruce. We are currently in the process of applying for our 501(3)(c) status. Taos Bowling Leagues is working in conjunction with Gutters Bowling Alley to develop a variety of bowling leagues and tournaments in Taos, NM.
It is our goal to provide a fun and respectful environment for our bowlers to improve their game, while following the official rules as outlined by the US Bowling Congress (USBC).  The current rulebook can be found here.
It is also our goal to create excitement about bowling for Taos' youth. Bowling is a lifetime sport, so it is very important to us to get the kids interested. Misty is taking USBC coaching classes in order to give kids the best tools to learn and progress. If you are interested in becoming a coach or sponsoring a junior bowler, please do not hesitate to contact us!